How to sell SSL effectively
At least 3 percent of your customers will purchase SSL Certificates - Make sure it's from you!

Recent research by Comodo of over 1 million unique domain names has shown that over 3 percent of all publicly visible registrations purchase SSL certificates. This means that at the very least, 3 percent of your customers are going to buy, or are already using, an SSL certificate. Are you getting your share of this market? This short guide explains the key practices and principles which will help make sure that your customers use you for their SSL requirements.

As a Comodo Partner, you can provide your customers with the most cost-effective, highly trusted SSL available - with the right promotion, you can make sure they do not go anywhere else!

How much revenue can you make?
Check out the revenue calculator available at for a demonstration of your potential profits.

Integration into your sales process
Option 1: Effective integration into your product portfolio
Whenever you sell your existing products, there is a prime opportunity to integrate an SSL certificate sale into this sales process through the use of:
Check boxes
Sales message prompts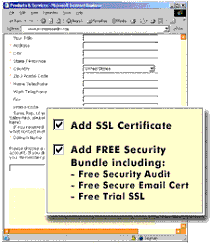 Direct integration into your existing product portfolio is the most effective means of capturing a potential sale


Comodo has developed a number of interfaces for you to use - including web based consoles and an automated data submission interface. If you would like to discuss which interface will work best for you, do not hesitate to contact us for advice. Additionally, a sample pop-up can be found in the reseller resource section of our website.

Option 2: Direct Customer Emailing
Follow up emails can be easily employed and are highly targetable for your customer profile. More importantly, upsell emailing is especially useful to stimulate existing customers into buying from you and to make all customers aware of your new SSL product offering. Comodo provides you with access to a number of email templates incorporating key messages for SSL sales.

Option 3: Website Advertising
Like email, advertising on your website is a great way to let your customers know about your new SSL product offerings. Comodo offers you a number of banners and buttons to help you promote SSL effectively.


Getting up and running is easy and quick -
we are here to help!

Do not hesitate to email or call us to discuss how to effectively integrate SSL certificates into your sales process. Let us help you make sure that your customers come directly to you for their SSL security needs.