Buy SSL Certificate and Other High Assurance CA Certificates
The lack of confidence in the real identity of a website is a barrier to a truly successful e-commerce environment. By making a mechanism available for real-time verification of website identities, Comodo has developed TrustLogo, the real-time Website Assurance technology that provides a major contribution to the achievement of a successful e-commerce environment. Powered by the Internet's only real-time Identity Assurance infrastructure (Comodo operated ID Authority), TrustLogo delivers trust, confidence and peace of mind to your customers.
The management area of your account allows you to view feedback on how many customers are verifying your identity on a daily basis. See for yourself how your TrustLogo investment pays for itself in a matter of days, or even hours! None of our competitors can offer you this essential functionality.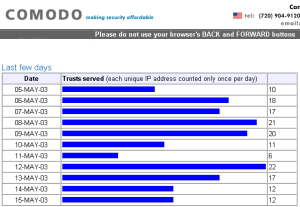 The result? TrustLogo helps convert website visitors into customers.
Display a Secure & Authentic TrustLogo on your website if purchased with SSL Certificate
Prior to being issued with a seal, your details are validated by Comodo, the trusted third party.
Employs unique "point to verifyT" technology to deliver further credentials (your logo and address) directly from the IdAuthority and to your customers. No click is required for your customers to receive up to the second Identity Assurance.
Extended site credentials are available to your customers, including your full address, contact details and other essential information.
There is no limit to you for the amount of verifications your customers choose to perform.